Wintery Songs 2016
WOW that was fun last night! I haven't laughed so hard on stage EVER. With our special guest Anne Heaton, we were EIGHT on stage. There are still tickets available for Yarmouth, ME tonight and VIneyard Haven tomorrow - and maybe even a few left in Natick.

This year Wintery Songs in Eleventy Part Harmony IS:
Rose Polenzani, Jennifer Kimball, Valerie Thompson, Jenna Moynihan, Hannah Read and Deni Hlavinka, with Rose Cousins for 12/14 and 12/15!

Hope to see you soon,
Jennifer


Wintery Songs at Oberon, 2015, opening for Session Americana
Tickets available for Wintery Songs shows
and WHAT a fabulous 2015 cd release tour it was!
Wintery Songs' Rose Cousins, Rose Polenzani and Jennifer Kimball with special guests Catie Curtis and Kris Delmhorst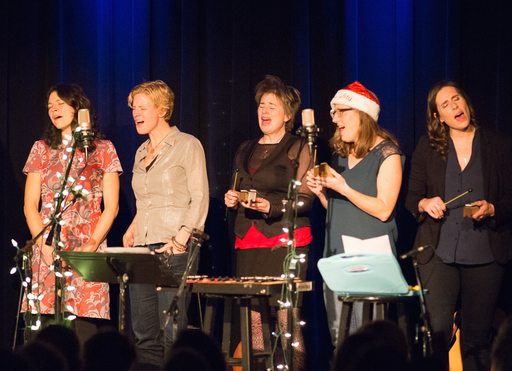 Thank you so much for all your support this year! In addition to releasing our first recording, HARK and running a successful kickstarter to fund it, we set off on our first tour outside the cozy environs of our birthplace, Club Passim. This is a rough and dirty version of one of Coleman Rogers' many gorgeous photos of us at TCAN, which was, perhaps, the highlight of our tour, as we got to have the incredible Kris Delmhorst sit in on cello and sanging as well as a special guest appearance by singer/songwriter Catie Curtis. Here we are singing Silent Night in Natick, December 2015.

Already looking forward to next year's tour!
xojk
HARK is for sale at CDBABY
or if you're really in a rush send check for $15/cd +$3postage to Jennifer Kimball po box 33 Somerville, MA 02143
WE KICKED IT!!

Thanks to everyone who contributed to the HARK kickstarter campaign to get this record up and running! We made almost $2,000 more than our goal of $8,000 and as a result bills are being paid! Jennifer's house is reward central; every available surface is covered with felt, thread, postage, packaging, labels, buttons, scissors, finished ornaments, printouts of various reward levels, 'made by Jennifer Kimball' labels, AND BOXES OF HARK!
We're so psyched to bring you a whole tour of concerts - really more like a tourlet. The HARK tourlet. I like that.
You can purchase downloads or physical copies of HARK
http://www.cdbaby.com/Search/d2ludGVyeSBzb25ncyBpbiBlbGV2ZW50eSBwYXJ0IGhhcm1vbnk%3d/0

here

C
OME TO A SHOW!
We'd love to say hi and Hark!
xojk
WINTERY SONGS KICKSTARTER IS UP AND RUNNING!!
To purchase tickets for any of the upcoming shows please go to the
GIGS
page here on this site. All the ticket links are up!
Five ladies from Wintery Songs will perform in this week's Subrosa at the Lizard Lounge
WED 9/6
Rose Polenzani - with Billy Beard and Zach Hickman - is producing another SUBROSA at the Lizard Lounge in two days - with the theme: "A More Perfect Union." Five ladies from Wintery Songs are taking part: Rose Polenzani, Jennifer Kimball, Kris Delmhorst, Deni Hlavinka and Catie Curtis!

WED SEPT 6
Subrosa: The Secret Society of Rose Polenzani with friends and strangers
Lizard Lounge
1667 mass Ave
Cambridge, MA

9pm/doors at 8:30
$15